Today Google Analytics Blog announced about the seven new features in Google Analytics tool. Among the all, adsense feature is the one which I was waiting for a long time from Google and now I would love to have that along with my GA. If you do not find the new features in your account yet, do not worry, wait for few weeks max until it rolled out to all the accounts.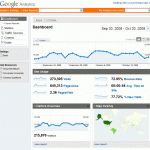 Here are the new features.
1. User Interface refresh.
2. AdSense now integrated into GA.
3. Advanced visualizations: Motion Charts!
4. Custom Reports!
5. Advanced Segmentation!!
6. The Google Analytics API.
7. Automatic importing of AdWords cost data into Urchin.
Learn more about the new features in detail at Avinash Kaushik blog

---
---