Tuesday, August 12th, 2008
Though it was postponed to next day, I was well prepared  to attend the WAW event in Chennai to meet up Palani, Trinadh and other folks.. Well, it was an interesting event for me since it is first time to come out of my home town  to meet other folks on this field.  Sky was clouded on that cool evening and I hurried to reach the Star City Hotel, T-nagar, on time, before it started raining. Just when I entered, it was a big surprise for me when Palani identified me(Just seen me in IM photo

) and introduced himself and welcomed to the event.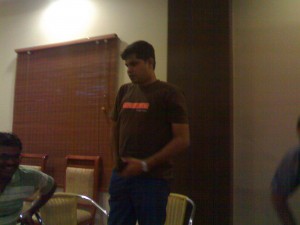 Trinadh was waiting there already and we introduced our self as it was the first time we met face to face. Was expecting other folks arrival to start the session but it was an disappointment for every one since only very few came from the registered numbers. Started the session by self introduction and their experience on this field and how they got in to. Suchet from CTS, Lakshmi kanth from Veetechnologies, Sherin from Bharath Matrimony…. went like that….
Palani answered to the most of the questions arised during the discussion.  Sherin's view on current Web Analytics practice and how to impress the boss by the way presenting the data was really admirable. Being country manager of Web Analytics Association of India, Trinadh shared his plans of moving to next level by having a local WAA website with blog and forum. Got answers for many questions and useful tips from UBC course to Self marketing..  Thanks Trinadh..  It would have been really bigger event if there were no absence.. Any way, I think it is an unforgettable day in my life, enjoyed lot…  Thanks to Palani to have a deep discussion from to my personal to salemjilla.com .. Thanks for your suggestions as well. I am glad about that….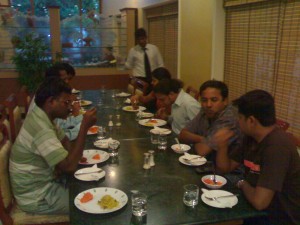 Searching me?? Sorry guys… I am the photographer…