September 25th, 2010
"First time" I visited Coimbatore on this Sep 18th for a bloggers meet which was also seemed to happen "first time" in Kovai. The venue of this meet was a three star hotel named "Hotel Alankar" near the Kandhipuram bus stand. As a last minute decision on debuting my public speech on this meet, I prepared a quick presentation in the morning and put it on a pen drive and left Salem. That too without rehearsing for the speech. So it was a day where most of the things happened for "First times".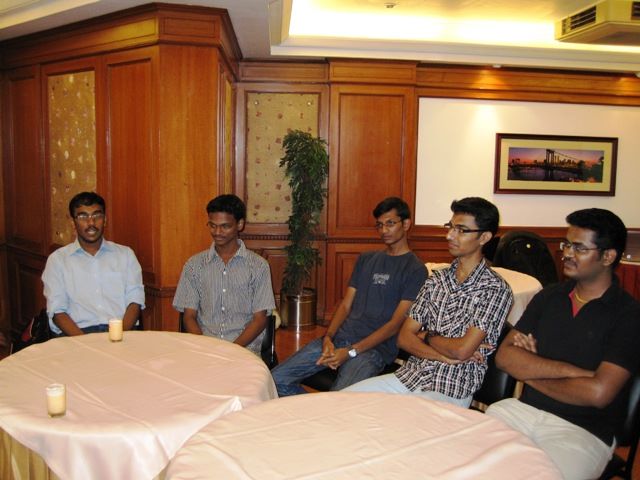 The meet started exactly at 7pm with a self introductory session. Though I could see few professional/business people there, majority were the student faces. Each had different reasons for stepping into the blogging world which were like making revenue, entrepreneurship, sharing their own built softwares and so on.  But everybody there had a passion in blogging. As most of the people were new to blogging, I thought to share some useful tips to make their way to success more clear. For that I chose a topic "How To Take Your Blog To The Next Level" which I thought more appropriate for this meet. My quick born presentation was projected on the screen and I shared my thoughts for about 20 to 25 minutes, which I learned through my humble experience.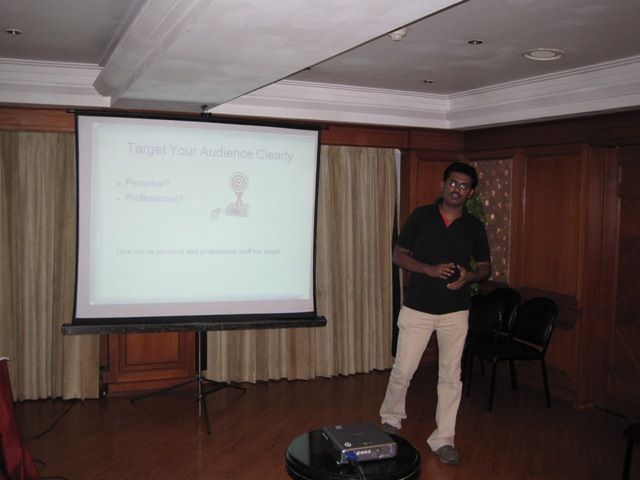 Here is that presentation of mine for those who could not make this meet.
After my preso, other bloggers also shared their own blogging experience which then continued to the delicious non veg buffet dinner. Just before the end of the meet, T-Shirts with "Blogger" logo printed in it were distributed to all the participants. The plan was to take a group photo of all wearing this T-Shirt to capture the memories. At once all changed their costume and  started to pose for the photo I was posing with the same costume. Being a wordpress fan, a non-blogger guy, and had thrown strong points to not use blogger any more during my speech, still I could wear that T-Shirt. But Shhh.. I guess I might have thought the T-Shirt wont fit my size at that time.

lol